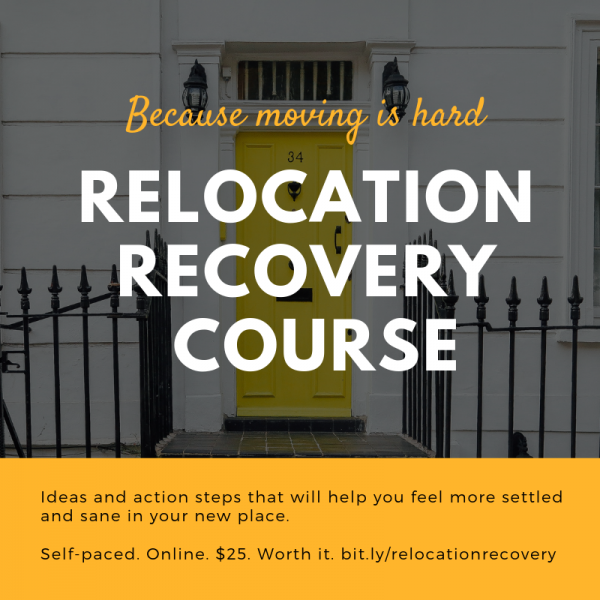 Time heals all wounds. That's why, if you've lived in the same place for a few years, you may start to say ridiculous things like, "Let's move. It'll be fun."
I don't blame you. I myself had forgotten how much relocating sucks until this past spring, when for the first time in six years my family moved houses. Suddenly it was like: "Oh. Yeah." And I didn't even leave my town! It was a mere fraction of the crappiness of moving to a new city!
Once I'd remembered how real and disconcerting all those relocation-induced emotions can be—you know, enjoyable sensations of being totally lost, lonely, and overwhelmed—I wanted a solid way to help. So I partnered with relocation coach Marni Cummings to create an online course called Relocation Recovery.
If you've moved in the past few years (or if you're still struggling to put down roots where you are), this course is for you.
It's simple and self-paced.
It's full of ideas for processing what you're going through and making yourself feel better.
The challenges, if you do them, could change everything.
It's only $25.
I'm really excited about Relocation Recovery precisely because I remember the pain. Go check it out.
________________________________
7 items of interest
1. He started something called Neighbours in a Yard—"and it was sheer joy."
2. I keep a spreadsheet of placemaking ideas I love, and this Philadelphia awesomeness made the cut. (Also I'm strangely obsessed with this Philadelphia awesomeness.)
3. On returning to your rural hometown: "There is something incredibly powerful about the way we show up with each other in small, daily ways."
4. Neighborhoods shape children for life, according to these maps.
5. Pretty sure this mayor is my hero.
6. Me on the Strong Towns podcast. Go listen.
7. Favorite Halloween candy by state. THIS IS IMPORTANT, GUYS.
xoxo, Melody
Remember, the only way you get access to my amazing random bonus links—book recommendations, Netflix picks, recipes, funny New Yorker cartoons, and other bits of enjoyable weirdness, is to subscribe to my newsletter. It only comes about once every two months. NBD.