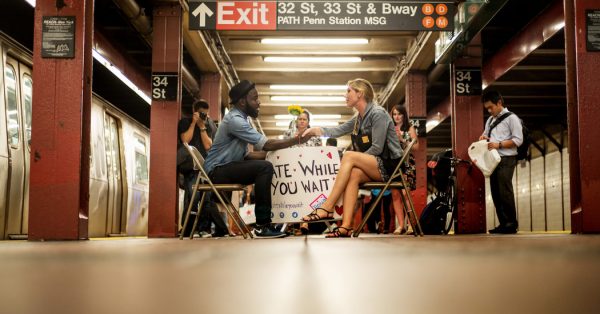 Thomas Knox is a guy from New York City who wanted to get people to slow down and talk to each other. So as a social experiment, he dragged a table and some chairs down into the subway, set out a board game, and waited. People rushing for the trains eyed him warily, but after a few minutes, a stranger got curious and sat opposite Thomas. The two of them would play Connect Four or Rock Em Sock Em robots as the trains rattled past. Mostly they'd talk.
Knox called the project Date While You Wait, a nifty rhyme though in truth this wasn't about romance. He simply wanted to connect. The strangers who sat with Knox loved it, and soon Date While You Wait became a sensation.
Hearing Thomas tell his story at the ultra-cool CityWorks (X)po conference in Roanoke, Virginia, a few weeks ago immediately made me mull the possibilities here. What if I bought a bistro table and put it in Farmers Market Square with a chess board? What if I installed a Listening Booth and some ping-pong tables in a park like Big Car Collaborative did in Indianapolis? Or some luminous adult swings like designers did in Boston?
What captivated me most was Thomas's sense of pure possibility. He had this crazy idea, and he did not ask anyone for permission. He just did it. That's how we change our places for the better. Make your good idea happen. And if you need some good ideas, start with my book or this amazing list of 101 small ways you can improve your city.
7 items of interest
1. Why this guy lives in Seattle and looks forward to rain more each year tells us something about how to deal with the climate where we live.
2. My husband and I are still house-hunting, but then I read something like this essay and I think, "Maybe we should just move into a 900 square foot apartment instead."
3. A curated list of books set in or about every U.S. state made my to-read list mushroom.
4. There are so many benefits to spending a little more time outdoors.
5. If I saw one of Miguel Marquez's fake signs outside, I'd be beyond happy.
6. "No, I'm from New York."
7. I'll be at the local Warm Hearth Writers Festival on October 29 and at the Texas Book Festival on November 5. If you're around, come say hi.
My email newsletters are even cooler, promise. Subscribe now.