My core belief: When we connect emotionally to where we live, we discover our power to embrace our current happiness as well as ignite positive change. I've given talks, workshops, and keynotes on place attachment, placemaking, welcoming, engagement, and talent attraction and retention for groups around the country. I'd love to come speak in your community.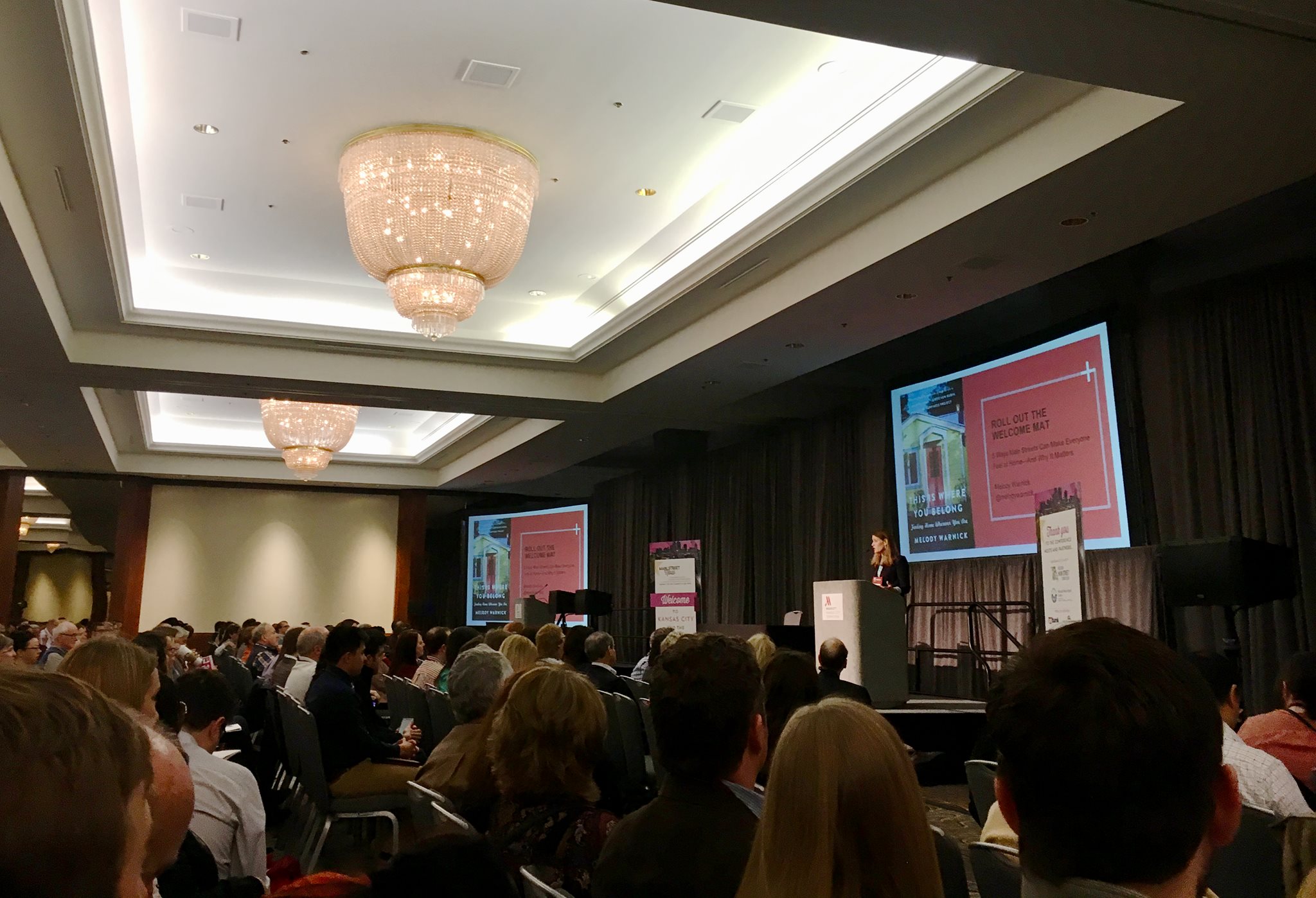 "Melody's enthusiasm for her own city and for cities everywhere is infectious. She inspired our community to love where they live, and we hope to have her back in the near future!"
—Ashley Kershner, executive director, Downtown Lynchburg Association
"Bringing Melody Warnick to our community to lead workshops in community engagement was far and away the best way to bring people together during our new building's Grand Opening events. It just happens to also be the highlight of my time with our organization. Her passion for community, her knowledge of effective engagement strategies, and her genuinely lovely and compassionate demeanor make her one of the best speakers I've had the pleasure to learn from. I wish we could bring her back every year!"
—Susan Heggestad, tourism and marketing manager, Vermillion Area Chamber and Development Company
what audiences are saying
"Melody was a fantastic speaker. Her talk gave actionable items we could all take back to work on."
"Melody Warnick's speech was engaging, interesting, and relevant."
"Great storytelling that kept my attention."
Blair County Chamber of Commerce (Altoona, Pennsylvania)
Crawford County Community Foundation (Bucyrus, Ohio)
Danville Community Foundation (Danville, Virginia)
Jefferson County Tourism Summit (Harper's Ferry, West Virginia)
Marion Public Library Community Reads (Marion, Ohio)
National Main Street Association Conference (Kansas City)
North Carolina State Budget Association conference (Durham, North Carolina)
Placemaking Week (Vancouver, Canada)
Tahlequah Chamber of Commerce (Tahlequah, Oklahoma)
TEDx (Fargo, North Dakota)
Virginia Economic Developers Association Conference (Harrisonburg, Virginia)
Virginia Festival of the Book (Charlottesville, Virginia)
Willard Library Community Reads (Battle Creek, Michigan)
Women's Economic Development Network conference (Charlotte, North Carolina)
Young, Smart and Local Conference (Philadelphia)
Download my speaker sheet to learn more about how I can help your community.
For rates or to schedule me to speak at your community, email me.
To watch my TedX talk on place attachment vs. Restless Soul Syndrome, click on the video below.