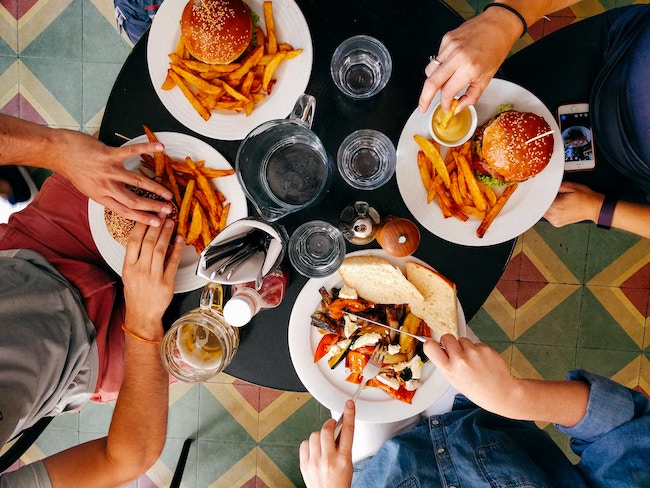 For the past few months, the women at my church have been joining small interest groups—you know, like Meetups, but slightly more old-fashioned. Book club is an old standby, but now there's a knitting group, a play group, a quilting group, a family history group, and so on. I was put in charge of the lunch group, because eating at restaurants is one of my core competencies. All I do is set a date and choose a place. As leadership roles go, I've had more challenging ones.
Who comes? Sometimes thirteen of us and we have to push together tables and apologize to other customers. Sometimes three of us, chatting quietly in a booth. I don't always feel like showing up myself. (TBH, I rarely feel like doing anything at all.)
That's where the standing appointment saves me from myself. Inevitably, once I'm eating my salad (just kidding, my burger) and discussing careers and kids, I'm happy I came. I just regularly forget to remember how happy I'll be in the future.

While scheduling a hangout far in advance laughs in the face of spontaneity, I'm not sure much spontaneity exists in the modern world anyway, or that it matters. What we really need are ironclad methods to strengthen human relationships despite our laziness, busyness, and disraction, so that we keep building community even when we don't feel like it or think we don't have time for it.

In a beautiful essay in Quartz, Jenny Anderson writes about how painstaking this process of building connections really is. "Community is about a series of small choices and everyday actions: how to spend a Saturday, what to do when a neighbor falls ill, how to make time when there is none. Knowing others and being known; investing in somewhere instead of trying to be everywhere. Communities are built, like Legos, one brick at a time. There's no hack."

Well, maybe there's one hack. Calendar the relationships you want to keep.

________________________________
Shameless self-promotion portion of the newsletter: I was asked to be the inaugural guest on a new podcast called Wellness 3.0, hosted by Amy Baglan, the smart, chill founder of MeetMindful. They're launching a new app called Fabriq to help you socialize IRL, so we talked about finding friends and Sunday night dinners and saying yes and all sorts of good stuff related to social wellness. Go have a listen!
________________________________
7 items of interest
xoxo, Melody
P.S. All the best bonus links are in my newsletter. But you have to subscribe.