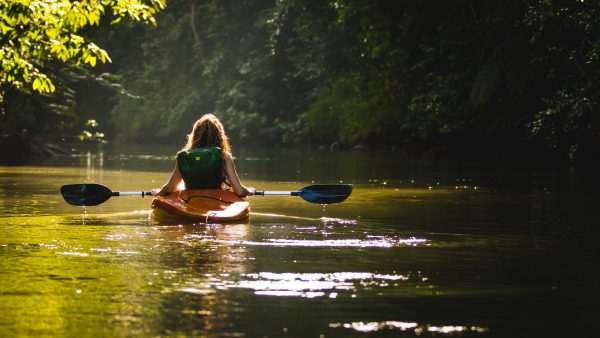 I know, I know. Buying things doesn't make you happy. Experiences do. But what about paying for gear that helps you have more meaningful experiences where you live? I have spent about 20 years of my adult life in places where it snows every winter, sometimes an awful lot. Utah. Maryland. Iowa. Virginia. And yet it was only last year that I finally bought myself a pair of snow bibs. Every other winter before this, I'd haul jeans on over my long johns to go sledding or build a snowman and be soggy and miserable within 20 minutes.
Finally, it occurred to me how ridiculous I was being in my misguided frugality. I live in a snowy place! It was time to suck it up! So I plunked down $30 to buy myself a cheap pair of snow bibs, and I'm here to testify that it's made all the difference. This winter, after our first big snowfall, I simply lay there, blissed out on my sledding tube for 20 minutes, marveling at the fact of my warmth. It's amazing how little money can bring so much pleasure.
What could you buy (or borrow, or rent) that would help you make the most of the place you live?
Consider, for instance,
a kayak
hiking boots
a bicycle
season tickets to the local playhouse
porch chairs
tickets to a concert
a kite
skis
a sled
rollerblades
a jogging stroller
fishing poles
a bike rack for your car
a tent and camping supplies
a pass to a local museum, zoo, or aquarium
tickets to a sporting event
pool passes
Although I generally hate when people use the word "invest" to talk about purchasing stuff (These are not stocks, people! You're not going to get your money back!), there are indeed emotional returns to be had when you buy the equipment you need for your particular place. Your feelings of commitment to your town increase, and you up the likelihood that you'll have enjoyable, meaningful experiences that will grow your place attachment.
Money is fraught. But if you want to love where you live, spend a little and buy the gear. Read more at Livability.com.
————————————————————
Shameless self-promotion portion of the newsletter: Shout-out to the new subscribers I met speaking at the Main Street Now conference in Kansas City! Also, go listen to me talking to Lara McElderry about living somewhere you absolutely don't want to on the fabulous Married to Doctors podcast. (You know someone who needs this, right?)
————————————————————
7 items of interest
1. A town in England cut hospital admissions by building community. (Important: We need "men's sheds" in America.)
2. Why is violence on the decline in cities? Community gardens and block associations.
3. What a grassroots place-love movement looks like.
4. Love Where You Live experiment alert! Make tiny hedgehog crossings in your neighborhood! I'm swooning.
5. Could unbranding your city be better than branding it?
6. I moved into a new house!
7. Only 34 percent of Americans have had their neighbors in their home. GET ON THAT.
xoxo, Melody