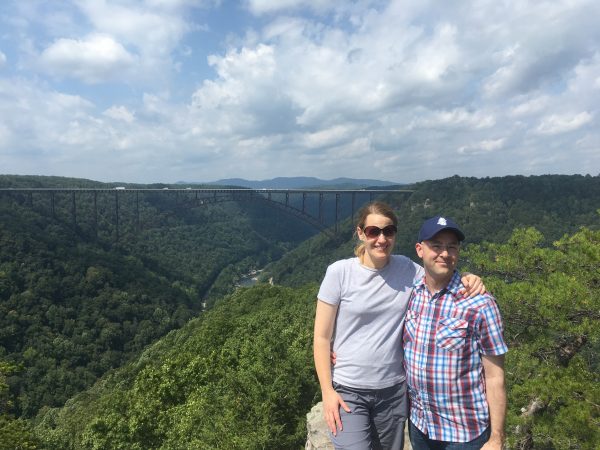 The author Laura Vanderkam, who writes books about making the most of the time you have, shares a hot tip about using your weekends well: Plan your days off. That little tidbit sometimes rattles around my brain at 3 pm Saturday afternoon when the only thing I've done of note for the day is scrub a toilet. My father believed strongly that weekends were for outings (Disneyland! Universal Studios! The beach!). Why do I so often go to bed Saturday night suffused with regret about wasting my opportunity for adventure and exploration?
When Labor Day rolled around, I pledged it would be different. I demanded a family plan. We would maximize the crap out of this day off. We would take a day trip.
Before I even moved to Blacksburg, I created a bucket list of things I wanted to experience locally before death or relocation. My wish list reaches well into the surrounding region—not just neighboring towns, but neighboring states. Anything within a couple-hour drive is fair game. On Labor Day, motivated by the memory of a really good sandwich Quinn had eaten there, we drove two hours to Fayetteville, West Virginia, hiked for a heavenly view of the 3,030-foot New River Gorge Bridge, ate some ice cream, then drove home with both a sense of accomplishment and a sense that we lived in a good place.
Can a town 100 miles away, in a different state, increase your sense of place attachment? Sure. In truth the feeling of place attachment or place identity can be extra-small, encompassing your house, your street, your neighborhood. Or you can biggie-size it to an entire region. Even while I focused on attaching to Blacksburg, my Love Where You Live experiments bled over into the region as a whole, like when I went hiking near the Blue Ridge Parkway with my friend Laura. All of it is my "place." In some ways, the more generous your definition of "place," the more you'll find to love in it.
We don't have a 3,000-foot bridge in Blacksburg, but any and all experiences that make this part of the world feel like home, I'll claim. And it made for a pretty triumphant day off.
————————————————————
Shameless self-promotion portion of the newsletter: I did a video interview a few weeks ago with Canadian life coach Nicole Michalski for her online Your Best Life Yet Summit, and you should go watch it. (Funny thing: until about five minutes before it started, I thought it was going to be a phone interview. So I look really awesome.) Nicole and I went deep on topics like what really matters when you choose where to live. Plus Canadians are the best.
Part 2 of shameless self-promotion: The Kindle edition of This Is Where You Belong is on a crazy-good sale right now—just $1.99! I'm not sure how long the price will last, so snap that puppy up and tell your friends, because it really doesn't get any cheaper.
————————————————————
7 items of interest
1. Amazon's announcement that they were going to build a new headquarters somewhere outside of WA threw everyone into a tizzy. The New York Times thinks it picked the winning city.
2. What to do when you move to a new house and what to do when you move to a new town. There's a difference. (I like the first one on the latter list.)
3. "A place is a truly immersive experience, and its reputation depends on its natural and cultural attractions, its leaders and cheerleaders, its visitors, marketing strategies, and specifics of day-to-day life. In other words, everything." How place doing is replacing place branding. Speaking of place branding, no one likes America anymore.
4. In heartwarming buy-local news, a stranger saves a village store.
5. But must it always take a motivated wealthy person to fix local problems like affordable housing?
6. A Love Where You Live experiment to make your city more playful: a guided tour of random things (scroll a bit).
7. People in Louisiana like raisins, and other weird findings from Walmart's top sellers by state.