In sixteen years of married life, Quinn and I have managed to get away without our children maybe four times. When it happens, it's through the enormous good graces and generosity of some family member or friend or other, and always, we're left wide-eyed and grinning at our good luck. We're free! Can you believe it? (Disclaimer: This doesn't mean we don't love our kids. It just means that sometimes they drive us absolutely insane, and a 48-hour separation is the best possible outcome for everyone's mental health.)
This time, our friend Lucynthia mentioned in passing that she and her husband, Nate, would be happy to watch our kids so we could go on a mini-vacation. "Ah, that's really nice and delusional of her," I thought to myself. But then she pressed the issue in an email a few weeks later. "When are we going to watch your kids?" she asked. Like she actually meant it. Before she could come to her senses, we booked a two-night vacation to Asheville, North Carolina, for my birthday.
Why Asheville? Because it's three hours away, close enough for just-in-case but far enough to make us untouchable in all but dire emergencies, and because a few friends, as well as Southern Living magazine and the the New York Times, rave about its indie shops, restaurants, and art galleries. Asheville's biggest (literally) tourist attraction is Biltmore, George Vanderbilt's 8,000-acre, 35-bedroom estate, but when we realized tickets cost $60 we abandoned our plans to go and focused on the city itself.
And it was utterly delightful. Here's why.
The food.
Oh my gosh, the food. Quinn hates it when I go nuts with hours and hours of advance research before travel, so this time I was trying my darndest to just be like, "I don't care where we go, whatever." But then my instincts took over and I ended up Yelping the heck out of Asheville. I couldn't help it. This place, Biscuit Head, was one of the restaurants where we ended up. (Named, apparently, for biscuits the size of a cat's head.) It's in some sort of doctor's office complex — not where you'd ever expect to see a hip restaurant — and yet this is what the line looked like on Saturday morning, all of us queueing up for various biscuit sandwiches with toppings like pulled pork, fried green tomatoes, and Cherry Coke-flavored bacon. Folks know what's good for them.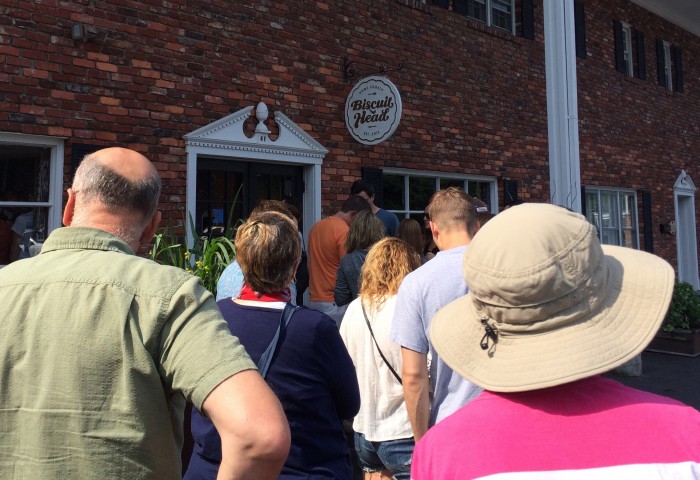 I ordered an egg, cheese, and country ham biscuit, which I had to eat with a fork because the biscuit was so tender. Plus, there was a jam and butter bar, with homemade strawberry and blackberry jams, a bananas foster topping that tasted like an unholy apple butter, and a sweet tomato jelly, among other deliciousness. I get the sweats just thinking about it. (Asheville biscuit consumption tally: 4.5 in 3 days.)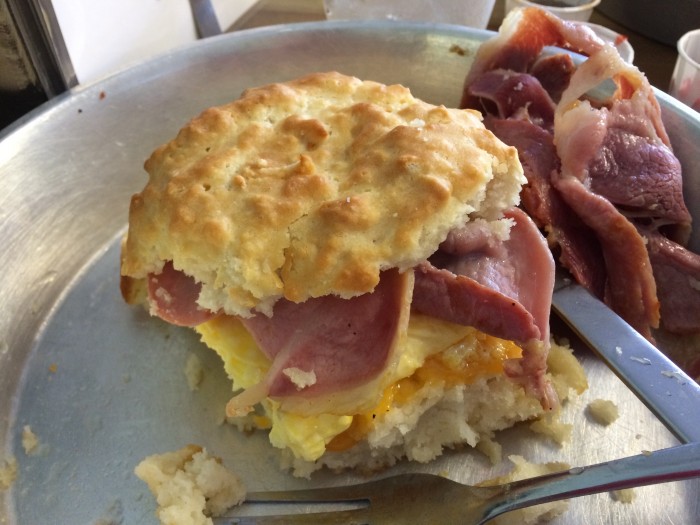 Every meal we ate in Asheville—at Tupelo Honey, Sunny Point Cafe (fried avocado tacos and key lime pie!), and All Souls Pizza—made us want to never leave.
There were other delightful things, as well, including the marvelous arboretum, the Blue Ridge Parkway, loads of art galleries, and indie bookstores like Malaprop's. We hit up a drum circle on Friday night, sat in Pack Square as the sun went down, and watched these guys do their country busking schtick a few times.
On the downtown streets, tourists and locals jostled for space among drummers, guitarists, opera singers, keyboardists, and five-piece bands doing renditions of Sufjan Stevens. (With so many, we wondered if the city was considering permitting street performers. They are.)
And of course I looked at real estate magazines and imagined what life would be like living in Asheville. Maybe next time we visit (I'm really hoping there will be a next time), we'll take our kids.
Like this post? Share it!